2013 Tailgate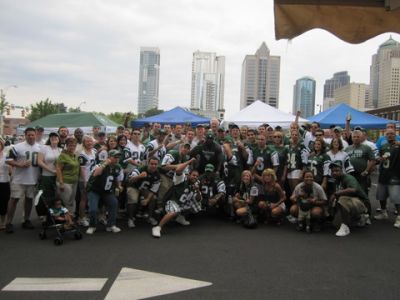 The Charlotte NY Jets Fans group is hosting a tailgate party on 12-15-2013 when the NY Jets come to Charlotte to play against the Carolina Panthers.
To sign up:
Visit this site and purchase a tailgate admission wristband (credit cards accepted)
https://squareup.com/market/charlotte-ny-jets/tailgate-admission-and-food
The wristbands will be available will call day of the tailgate.
Details:
The tailgate is on 12-15-2013 from 12:00pm until 3:00pm. Kickoff is 4:05pm.
The tailgate will be located in a private lot on 3rd street and Mint Street in downtown Charlotte. (NE corner). Out of town fans can find hotels within walking distance of this location. It is roughly 2 blocks from Bank of America Stadium (one of the closest lots to the stadium). There is no public parking in our lot, fans driving to center city are encouraged to find their own parking and walk to the tailgate location.
We are once again featurning a southern BBQ lunch by Ranucci's Big Butt BBQ - an award winning BBQ caterer (Alex is originally from Upstate NY). Ranucci's Big Butt BBQ recently won Grand Champion at the 2013 BBQ and Blues competiton in uptown, one of the area's largest BBQ competitons, and placed 1st, 1st, and 2nd for his Ribs, Shoulder and Whole Hog respectively.
Entry Fees:
The cost to participate in the tailgate is $27 per person ages 12 and up. Under 12 are invited to join with a paying adult.
The fee covers the cost of the tailgate location and the fully catered lunch. Alcohol is not included as we do not have a permit to serve alcohol. Attendees intersted in consuming alcohol must bring their own and are solely liable for their actions.
All Jets fans are invited, regardess of whether or not you are currently a member of the fan group, however, the group reserves the right to refuse sale or entry to any individual at our sole discretion. We also reserve the right to ask anyone to leave the tailgate if we believe you are acting in a dangerous or inappropriate manner, and that decision is at our sole discretion.
Events:
Aside from typical tailgate events (corn hole, catch, etc.) we will likely hold raffles for Jets gear, and run activities for kids.