Our History
Prior to 2009, there were a handful of Jets fans that met up at a variety of bars throughout Charlotte to watch games together. Most of the time, Jets fans were pushed into the corner of the bar, and almost never had "game audio", a privilege given to Steelers or Bills fans here in the Charlotte area.
The Charlotte NY Jets Fans started in 2009 as a way to bring these small groups together to a Jets friendly bar. At first, we hoped to get enough people to get a dedicated TV and game audio each week. However, as the season progressed and our group grew in size, we were able to take over complete bars, and soon bar managers sought us out hoping to accommodate our swelling ranks. We ended the 2009 playoff run with over 100 members.
The 2010 season started off with over 150 members and more than 100 fans at our Jets/Panthers tailgate. We moved our regular weekly meetups to the Dilworth Neighborhood Grille. From there, we've seen a steady stream of new fans each and every season.
From 2011 through 2014, we grew our fan group from 200 fans to over 400 fans. At the same time, our facebook presence (our most popular form of interaction between fans outside of Sunday) has grown rapidly, to over 800 fans in the 2014 (4-12) season. By the beginning of the 2015 season, our facebook following has grown to 1000 friends!
Today, the Charlotte Jets Fans is one of the largest Jets fan meetup groups in the US.
As a fan group, we do more than just watch TV together on Sundays. Each meetup is an "event" in itself with giveaways and raffles, with cheering and people taking shots of "Jet Fuel", and a lot of camaraderie. We also host tailgates when the Jets are in town and coordinate massive road trips with other Jets fan groups around the US. Lastly, we generate donations earmarked to sponsor some of our favorite Jets players' charities.
If you want to know what 150 raving Jets fans sounds like, or what it feels like to celebrate a big win with your "Jets Family", sign up and come on out to our next meetup!
Charlotte NY Jets Mission
Be the best Jets fan group in the US

– the largest, most loyal, most passionate fan group.

Be a family friendly group

– an environment you can be comfortable bringing your significant other, your kids, your grandparents and your co-workers, etc..

Be fun and energizing

– promote group cheers (first down and J-E-T-S chants), shots, raffles and door prizes, give aways for kids. Should be as much fun as watching any NFL game can be short of being there in person.

Be welcoming to new faces

– a friendly atmosphere that celebrates new membership and welcomes new faces into the group by being inclusive, inviting, and by performing regular introductions for new members. Hold a Homecoming/Rally game each year, both aimed at bringing all the new members in to meet the veterans (homecoming during the first 4 weeks, usually against a division rival)

Be innovative in attracting and keeping members

– try new things, personalize the experience for as many fans as possible, keep members coming back even when the team isn't doing so well.

Be a great partner

– a group that bars love to back – decent and respectable fans having a good time cheering for their team. Be known for taking good care of our wait staff and respectful of the bar, their staff and property, and their reputation.

Encourage diversity

– a club for all Jets fans regardless of age, sex, race, social/economic, etc.

Be vocal and engaging

– provide online outlets for fans to participate, share thoughts, photos, links and other things others might find interesting. Maintain a presence on the web where fans can receive timely information about future events. [Facebook, Twitter]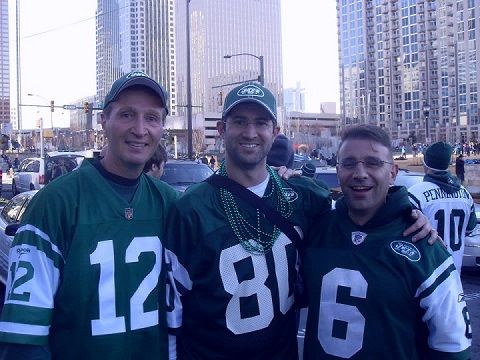 Above: Matt J., Scott S. and Joe K. during the 2013 Jets tailgate party (Jets vs. Panthers)
Founders
The group has a history that dates back 15 years through meetup.com (run by Joe K.) and other efforts to find fans in the Charlotte area. However, the current iteration of the group came together with a concerted effort to build a dedicated website and find a dedicated bar in 2009. Charlotte Jets Fans group's founders include Matt J. and Scott S. (pictured above) with a lot of support from dedicated members such as Joe K. (also above) Xavion N. (pictured below). Scott moved away from the Metrolina area in 2015 so Matt, Joe and Xavion carry on the torch.
Matt can be reached at matt@charlottejetsfans.com.
Location
The Charlotte NY Jets Fans have officially met at 3 locations during our history. In 2009, we met at John's Place, a small bar tied to an Upstate NY pizza place called Mario's, located in South Charlotte/Matthews. We moved to a larger and more centrally located bar called Fairview Grill (which has since been renamed to Lucky Lou's) on Park Rd. towards the end of the season and for the amazing 2009 playoff run.
In 2010, we moved one last time to Dilworth Neighborhood Grille, located near Uptown. Dilworth is owned and operated by ex-NYers with experience hosting team events such as football fan groups. They have a full kitchen and bar, parking, private party rooms, and great wait staff. They also have a family friendly atmosphere, and can accomodate hundreds of Jets fans in their various seating areas.
DNG has been a great partner for the group, helping us run promotions that enable us to do door prizes, raffles and other give aways. We always encourage our members to think of Dilworth the other 6 days of the week!
Communications
For those of you who enjoy our Twitter posts and Facebook wall, we owe all our thanks to Xavion and Matt, who volunteer to manage our web communications. Xavion stays plugged in to all the breaking Jets news and is available through these tools to answer your questions about the Charlotte NY Jets Fans! Xavion's dedication to the task led him to Cortland for the 2010-12 training camps, where he brought an autographed helmet back to Charlotte (see Cheermeister) and a signed magazine he donated to the group for a contest prize. One word - Dedication.
You can tweet with Xavion @CharlotteJets or post messages to him on our Facebook
The Cheermeister
In addition to the web communication duties, Xavion is also our Cheermeister. Xavion was nominated at the end of the 2009 season for this honor due to his passion and his unwavering support of the Charlotte NY Jets Fans group (and his love of the microphone!).
Come out to our meetups to meet Xavion and get swept up in one of his booming "J-E-T-S" chants (or visit our youtube channel if you want to see some from prior meetups.)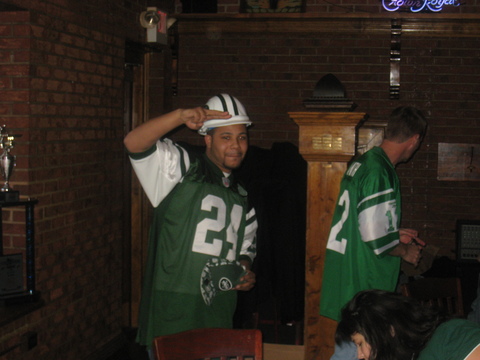 Above: Xavion Newkirk, AKA Cheermeister at Fairview Grill during the 2009-10 playoffs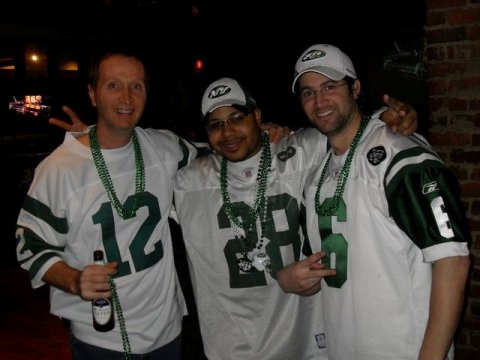 Above: Matt, Xavion, and Scott during a playoff run 2010-2011
Recent Internet Posts About Charlotte NY Jets Fans
Oops, it looks like you've entered an invalid feed address!